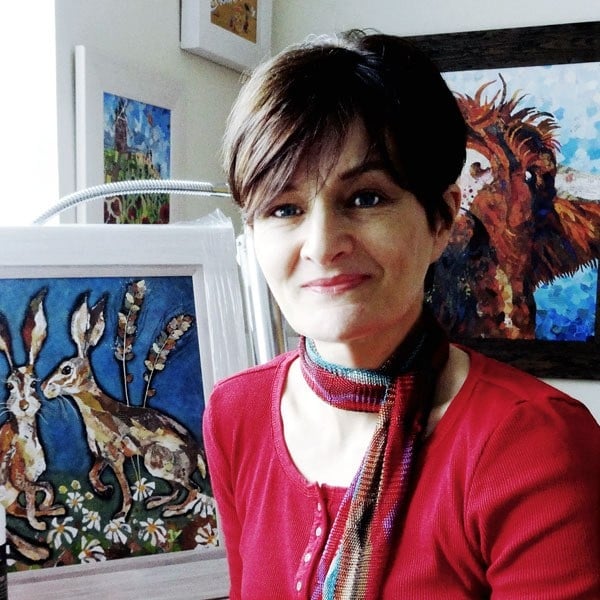 A huge warm welcome and many thanks for popping by. I'm a Scottish artist based in Fife and work from my home studio in Markinch where I spend most of my time creating collage paintings using hand painted torn papers. I've dabbled with art as long as I can remember and as a child I'd spend most of my days walking the family dogs or sketching birds and animals. My childhood dream was to work with animals in some way but alas, life took me down a different path. My love and respect of animals continued to was reflected in the drawings and paintings them and my love and respect for animals never left me and is the main inspiration behind my work today.
When bringing up my young family I'd use any spare time to make salt dough and plaster figurines and novelty cakes for family and friends. Working with my hands came naturally to me and I wanted to I as so a mature studme and this led me I'm mainly self-taught but did attend college as a mature student where I gained an HNC in Art & Design. It was during this time I was introduced to mixed media, printmaking and the fun of using paints and inks to make various marks on paper. Since then my work has evolved into creating colourful artworks using acrylics, inks and torn paper collage.

I sell most of my work directly as I like to have that one-to-one communication between the client and me. Building relationships is important and many of my clients return to add another to their collection. My largest display of original work for sale can be found at the Pittenweem Arts Festival each year so if you're looking to purchase one of my artworks this is the best place to choose from a wide selection.
My happy place is my studio where I potter away while listening to Radio 2 oblivious of the time of day. Our dog Sandy loves to keep me company and sleeps right at my feet under the desk.

When I'm not in the studio I like nothing better than getting outdoors to enjoy fresh air along coastal and hill walks with my hubby and Sandy. The East Neuk of Fife is a favourite walking area of ours and most of my naive harbour scenes are based on the small fishes villages of Crail, Pittenweem and Elie.
Our latest adventures into stand up paddle-boarding along the shores of Elie beach.
I hope that you get just as much pleasure looking at my work as I do creating it. A day in the studio really does feels like a minute to me and I am so thankful for this opportunity to be creative. I just love what I do, I am passionate about my art and find the need to be creative every day. If you are interested in any of my work and would like to see additional images please contact me. Other available work can be found via my website, facebook or in a few select galleries.

This is an Image & Text block. Click on this text to start editing and enter your own text with some basic formatting. Just click anywhere outside the text box when you're done to continue working on the rest of your page.
To change the layout and appearance of a block, such as the size of its images and columns, click on the Change Layout button on the block toolbar, to the right of each block.
I find life is so serious most of the time so I deliberately counteract this by creating art that is light-hearted, bright, textured, colourful and often with a little touch of humour to make you smile. My work has been described as whimsical, magical, tactile, funky and unique. The characters I create all have wonderful expressions and the relationships they have with each other create a visual story. Different people see different stories and I like that. My animals have mutual respect for each other so fox and hare live happily side by side.